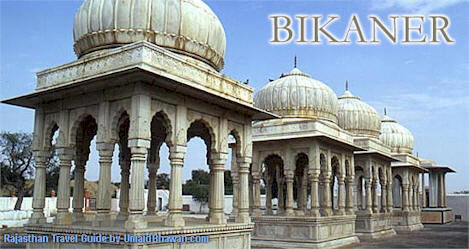 ---
Bikaner
The royal fortified city with a timeless appeal. Lying in the north of the desert state, the city is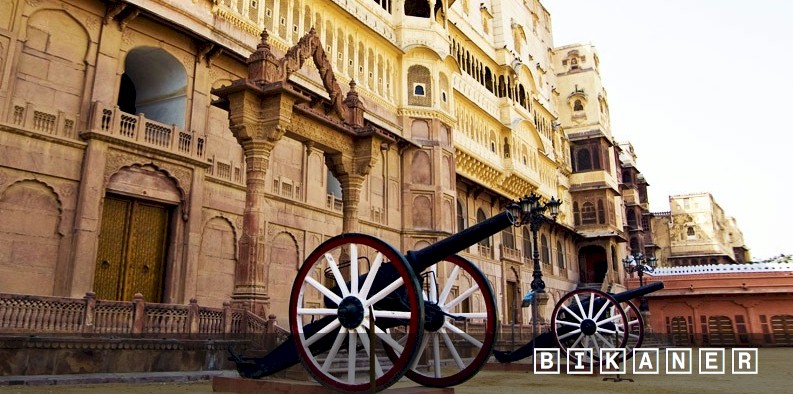 dotted with many sand dunes. Bikaner retains the medieval splendor that pervades the city's lifestyle.

More popularly called the camel country , the city is renowned for the best riding camels in the world. The ship of the desert is an inseparable part of life here. Be it pulling heavy carts , transporting grains or working on wells, camels are the prime helpers. The wells of Bikaner: an important source of water are other attractions of the city. These are built on high plinths with slender minareted towers on each of the four corners and can be noticed even from a distance.

Binaker's history dates back to 1488 A.D. when a Rathore Prince,Rao Bikaji- a descendant of the founder of Jodhpur(1459 A.D.), Rao Jodhaji, established his kingdom here. Rao Jodhaji had five sons but Rao Bikaji was the most enterprising of them. Bikaji chose a barren wilderness called 'Jangladesh' and transformed it to an impressive city, called Bikaner after the founder' name.

The strategic location of Bikaner on the ancient carvan routes that came from West/Central Asia, made it a prime trade centre in the times of the yore. Bikaner stands on a slightly raised ground and is circumscribed by a seven km long embattled wall with five gates. The magnificent forts and palaces, created with delicacy in redish-pink sandstone, bear testimony to its rich historical and architectural legacy. Undulating lanes, colorful bazaars and bright and cheerful folks make Bikaner and interesting experience.


Transportation
Air
: Nearest Airport is Jodhpur 240 kms.
Rail
: Bikaner is connected by rail with Delhi, Jaipur and Jodhpur.
Road
: Bikaner to Delhi 949 km, Jaipur 316 km,Jodhpur 240 km & Jaisalmer 330 km.
What to see

Junagarh Fort: Revel in the architectural splendour, as you take an intimate look at this imposing fort, built by Akbar's contemporary Raja Rai Singh. Within the fort are thirty seven palaces, pavilions Suraj Pol or the Sun Gate is the main entrance to the fort. The palaces worth visiting are Chandra Mahal, Phool Mahal and Karan Mahal. The palaces, exquisitely built in red sandstone and marble are ornate with mirror work, carvings and paintings. An array of kiosks and balconies embellish the fort at intervals, breaking the monotony. A museum with valuable miniature paintings and rare antiques is also located in the Junagarh Fort.

Lalgarh Palace: The magnificent fort in red sandstone, a fascinating juxtaposition of the Oriental style and European luxury that leaves you truly mesmerised. Designed by Sir Swinton Jacob for Maharaja Ganga Singh almost -90 years ago, this is an extraordinary monument. The palace has a billiards room, a library, a cards room and a smoking room. Belgian chandeliers, cut – glass ornaments, oil paintings and lamps add to its charm.

Bhandeshwar Jain Temples: (5 km) Beautiful 16th century Jain temples, dedicated to the 23rd Tirthankar Parshvanathji.

Excursions

Bhand Sagar Temple 5 km, Camel Breeding Farm 10 km, Devi Kund 8 km, Gajner Wildlife Sanctuary 32 kms, Deshnok's Karniji Temple 33 kms.
Altitude: 237 mtrs.
Best Season: Oct - March
Climate: Summer
Mean Max. 41.8 'C
Mean Min. 28.0 'C
Winter Mean Max. 23.2 'C
Mean Min. 5.0 'C
Clothing: Summer light tropical or light Winter Woolen.
Distances from Bikaner :

Delhi
470 Kms.
Agra
665 Kms.
Ajmer
278 Kms.
Alwar
472 Kms.
Bharatpur
542 Kms.
Jaipur
361 Kms.
Jaisalmer
355 Kms.
Jodhpur
256 Kms.
Mt. Abu
569 Kms.
Ranthambhore
537 Kms.
Welcome Rajasthan Travel & Tourism Services
C/O Umaid Mahal ,C-20 / B-2 Bihari Marg, Jai Singh Highway,
Opp. Lane of K.P. Automotives, Bani Park, Jaipur - 302016, Rajasthan (India)
Telephone : + 91-141-2205528 (09:00 A.M. To 06 P.M.)
+91-9829614748 (06:00 A.M. To 06 P.M.)
Fax : +91-141-2204470
For Car Rental Email: welcomerajasthan@yahoo.com For Tour Package Email: info@welcomerajasthan.com

Emergency Contact Number : +91-9829614748
Skype ID: welcomerajasthantours