The Origin of Rajputs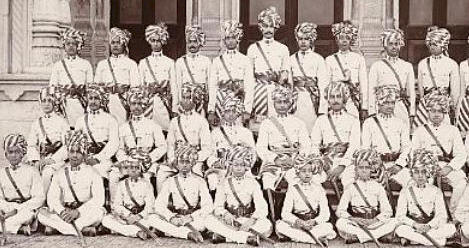 The origin of the Rajputs remains somewhat in doubt. That they were of foreign origin is suggested by the elaborate genealogies that the Brahmins (the priest of the Indian Varna or caste system) created to accord them the Kshatriya (warrior) caste. Which status they always insisted upon with almost undue vehemence. The Rajputs traced their lineage from a mythical fire atop Mt Abu, a mountain in Rajasthan, (Agni Kula or the Fire Family), the sun (Suryavanshi or the Sun Family) and the moon (Chandravanshi or the Moon Family).

Whatever their lineage, the Rajputs certainly were the living image of the knightly noble; handsome, brave – almost foolhardily so – and living within an elaborate code of honour and chivalry. Even then the attitude towards the British rule were varied and after the quashing of the 1857 Mutiny and the establishment of the British Indian Empire, the Rajput Princely States gained importance with 21 gun salutes, royal polo matches and durbars, just as they lost its meaning. Yet today the spirit and the heroic exploits of famous Rajput warrior-kings, like Prithviraj Chauhan, Rana Kumbha, and Bhappa Rawal, continue to echo in the golden sands of Rajputana in the people's folklore, music and dance.

When India became independent 23 princely states were combined to form the State of Rajasthan or the abode of rajas and now has become the foremost destination in India.


The families :
the first and now

The Sun Family :
Sisodias of Marwar (Chittaur & Udaipur)
Rathores of Jodhpur and Bikaner
Kachhwahas of Amber and Jaipur

The Moon family:
Bhattis of Jaisalmer
.
Welcome Rajasthan Travel & Tourism Services
C/O Umaid Mahal ,C-20 / B-2 Bihari Marg, Jai Singh Highway,
Opp. Lane of K.P. Automotives, Bani Park, Jaipur - 302016, Rajasthan (India)
Telephone : + 91-141-2205528 (09:00 A.M. To 06 P.M.)
+91-9829614748 (06:00 A.M. To 06 P.M.)
Fax : +91-141-2204470
For Car Rental Email: welcomerajasthan@yahoo.com For Tour Package Email: info@welcomerajasthan.com

Emergency Contact Number : +91-9829614748
Skype ID: welcomerajasthantours